Turkey offers many possibilities for everybody
not only relaxing in the sun but also :


further tips on :
---
visiting ANTIQUE SITES
Visit Turkey traveling by rented car, public transportation or organized tours.
TRAVEL IN THE PAST
All over Turkey remains of antique sites can be found; not only well restaurated ones, but also places that seem to be forgotten.
Places of interest in the AEGEAN AREA are :
EFESUS/KUSADASI PRIENE MILETE DIDIMA/ALTINKUM> HERAKLEIA EUROMOS MYLASA LABRANDA IASOS/KIYIKISLACIK MYNDOS/GÜMÜSLÜK HALICARNASSOS/BODRUM with the famous underwater museum in the castle, STRATONIKEIA KEDREA KNIDOS KAUNOS FETHIYE
Already in the old times lots of visitors came to this region: Homer travelled here and wrote his ODYSSEE and Marcus Antonius made a beach for Cleopatra and all the visitors that came to see the APHRODITE statue of PAXITELES at KNIDOS and the knights that travelled to the holy land and build their castles on their way (BODRUM, RHODES).
more info at : LALEs AEGEAN AREA PAGE
getting to see TURKISH CULTURE
Visit Turkey traveling by rented car, public transportation or city trips.
TURKEYs ETERNAL TREASURES
Situated at the crossroads between two continents, Turkey is the host of many civilizations and possesses a rich cultural heritage. Turkey has a mixture of oriental and turkish culture
At a short distance from the coast there are villages where people still live the same way as they did hundreds of years ago.
Places of interrest in the AEGEAN AREA are :
MILAS MUMCULAR MUGLA AKYAKA
more info at : LALEs AEGEAN AREA PAGE
wandering through NATURE
Visit Turkey travelling by rented car or public transportation.
Nature in Turkey ist mostly undisturbed and full of diversity; naked mountains, dense wooded hills, waterfalls and caves, and flowers at every time of the years (oleander, bougainvillaea, mimosa, tulips, roses, geraniums ...)
and lots of animals (donkeys, camels, flamingos, swallows, storks, dolphins, turtles and Caretta Caretta ..)
Typical animals of Turkey are the VAN KEDI a cat with one blue and one green eye and the KANGAL a very intelligent big dog, that loves the cold and is mostly used as watchdog.
There are no green meadows in the AEGEAN AREA, therefore you have to go to the BLACK SEA region, the more rainy climate makes that region beautifully green.
Places of interrest in the AEGEAN AREA are :
KUSADASI (birds paradise and national park) Lake BAFA (ales) GÖKOVA (turquois sea) MARMARIS (rare tree :Günlük agaç) DALYAN River (rafting) ÖLÜ DENIZ (nearby is butterfly valley) SAKLIKENT (waterfalls) ANTALYA (waterfalls and caves) the famous calc terraces of PAMUKKALE, and somewhat further away the fairy tale beauty of CAPPADOCIA
more info at : LALEs AEGEAN AREA PAGE
SPORTIF ACTIVITIES
diving (BODRUM), cycling (KUSADASI), climbing (FETHIYE), rafting (DALYAN), sailing and blue cruise LALEs SAILING AREA PAGE, surfing (BODRUM, TURGUTREIS), waterskiing, paraglyding (GÜMBET, ÖLÜ DENIZ), swimming, golf (ANTALYA), skiing (ANTALYA), fishing, hunting (boars and pigs), tennis, horse riding, balloon excursion (CAPPADOCIA).
HEALTH TOURISM
In ANATOLIA (LAND of the MOTHER SUN) your physical and mental health is not only taking care of by the sun, but there are many places where specific care is giving to your wellness. Resorts are near PAMUKKALE's hot springs, that are said to be good for rheumatism and other illnesses. In some holiday resorts in BODRUM and DATÇA special health clubs, take care of your every need. Furthermore there is the turkish hamam bath, that let you feel extremely clean and relaxed. In DALYAN / KÖYCEGIZ you visit the mud baths, that claim to be good for your liver.
---
airport
harbour
BODRUM
DALAMAN
IZMIR
GÜLLÜK
10 km
200 km
200 km
BODRUM
45 km
245 km
245 km
MARMARIS
135 km
105 km
260 km
GÖCEK
210 km
20 km
345 km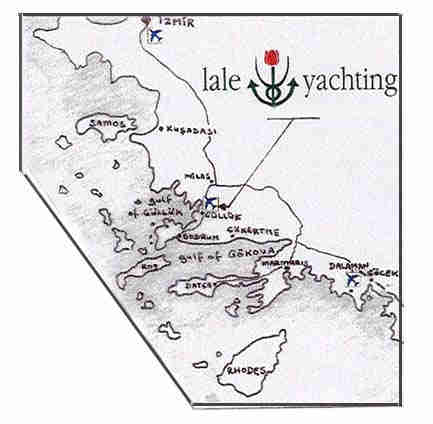 For maps and distances at sea : go to our SAILING AREA PAGE
ACCOMMODATION and TRANSPORTATION
HOTELS, PENSIONS,
The quality of the accommodations is explained by stars( ***** ). A middle class hotel has 3 stars; a very good hotel 4 and a superb hotel with all the extra luxury that can be asked for, has 5 stars.
a link to some hotels at reasonable prices.
GULETS, YACHTS,
The turkish 'blue cruise' is famous; travelling on a wooden yacht, slowly sailing while laying on deck in the sun, being well looked after by an attentive crew or sailing by yourselves on a rented polyester yacht advised by us or travel with a cruise or big ferry across the MEDITERRANEAN
(MINI) BUSSES, RENT-A-CAR, TAXI
The public transportation is very efficient and brings you everywhere at a low cost. But you can also hire a car to discover Turkey on your own.
Taxi's are also a good way of transportationation; the cheapest in big cities!
AIRPORTS, CHARTERS
3 airports offer flights to this area: IZMIR, MILAS/BODRUM and DALAMAN
see MAPS and DISTANCES to find out where they are.
FLIGHTS from the NETHERLANDS with :









a link to charter flights and prices
INFO ON ARRIVALS and DEPARTURES OF AIRPLANES
On the INTERNET you can have a look at the site of SCHIPHOL for flights to/from AMSTERDAM; for these flights or info on EINDHOVEN flights you can also have a look at TELETEXT page 757 - 761 or call 0653-034 050.
Look at ISTANBUL AIRPORT for ISTANBUL ARRIVALS and DEPARTURES
SAISONS and TIMES
The time is one hour later then Europe and 2 hours later than England.
The most tourists come in the period from the end of April until the end of October; city-trips and trips are organised the whole year long.
Some temperatures (min. - max.) in the AEGEAN AREA :

| | | |
| --- | --- | --- |
| | air | sea |
| APRIL | 15 - 25 | 16 |
| MAY | 20 - 29 | 19 |
| JUNE | 22 - 34 | 21 |
| JULY | 25 - 38 | 24 |
| AUGUST | 25 - 38 | 26 |
| SEPTEMBER | 22 - 34 | 25 |
| OCTOBER | 20 - 29 | 23 |

TURKISH OFFICIAL INFO


In Turkey the official money used is the Yeni Turkish Lira, although you will see that nearly all foreign currency is as easily accepted.
In june 2005 1 euro was worth 1.50 YTL.
Do not bring turkish money from abroad! The banks really charge too much overthere and wherever you cross a border you can change your money to turkish money (airports a.s.o.). The best is to change a little bit at the airport and the rest later at a bank or post-office. Or bring your europas and use one of the many money-machines (that are open 24 hours a day). Bring a lot of small money bills (foreign currency) to use for paying your meals etc. They are appreciated more then the turkish lira, that is deflated every day! Nearly every restaurant and market accepts your foreign currency, but do not bring coins!
Credit cards are not loved so much, because you can only write turkish lira amounts on it, and when the people cash them at their bank, they have to pay a high commission (2 - 5%).

Banks are not open on saturday and sunday; the postoffice in bigger towns is open every day and often until late at night.
Until late at night CHANGE OFFICES are also open to change your money; compair their rates to get a good change!

TELEPHONE
The cheapest way of telephoning is by buying a card at the post-office and using that at one of the public telephones. You can also buy a cheap prepay Turkish SIM card for your GSM telephone. It not only limits your conversation as the seconds tick away, but nobody charges you a penny more then the official rate of the telephone company!
In the whole province of Mugla the code (0 252) is the same, so you do not need to use that while calling. Calling to Europa you have to add an extra 0 and the country code, f.i. to Germany 00 49 40 123456 (= 040 123456) and for Holland 00 31 10 123456 (= 010 123456); when calling to Turkey from abroad you have to add 90 (f.i. our number is 00 90 252 522 2567).
While using your GSM telephone in Turkey you do not have to use the country code for Turkey (f.i. 0252 - 522 2567 i.s.o. 0090 252 - 522 2567) but may, but calling abroad you have to add the country code, just as at the public phone.

HEALTH
What to drink, what to eat (ice?), diarrhea, hospital, dentist.
Do not drink too many too cold drinks, those disturb your stomage the most and do not nearly lessen your thirst as good as not so cold or even hot drinks; there are people that always drink tea (hot, cold, with and without lemon).
What is good for your stomage and rather refreshing is ada çay : tea made from herbs. Or try ayran a refreshing yoghurt drink, mostly drank while eating the turkish pizza / pide.
You will have to drink a lot of water in the summer; make it a habit of taking a plastic bottle p.p. with you whereever you go! Although the tab-water is nearly always drinkable, it is advised to buy the plastic bottles with mineral water.


For walking bring good closed shoes, if you do not want to be surprised by scorpions or snakes when you disturb their territory and of course to protect you from thorns and rocks.
For the first couple of days bring loose big t-shirts and a hat or cap, to hide your precious parts from the ever lasting sun; brown you will get anyway, even by sitting under an umbrella
In BODRUM and other areas with a lot of white, you have to use sunglasses to keep the sparks of the sun from damaging your eyes.
If you need a doctor that is no problem in Turkey; for simple things you can go to the SAGLIK OCAGI, that is a policlinic with a doctor and nurses, that can be found everywhere; also in small villages. In BODRUM and MARMARIS and other big touristic cities are a lot of state and private hospitals. Every doctor speaks a foreign language (mostly english). And if you need another specialist also no problem, f.i. in BODRUM alone are over 25 dentists!

EMBASSIES
in Turkey and abroad

. More info on the pages of the Turkish Ministry of Foreign Affairs


VISA, PASSPORT and LICENSES
For Turkey you need a valid PASSPORT or IDENTITY card; and in some cases also a visa, that you can get at the airport when you enter Turkey (costs approx. € 10). Do not obtain it at a turkish embassy in your own country, there they are very expensive ! F

rom Germany you do not need a visa; for the Netherlands (€ 15), Belgium, England, Austria you do need a visa. The visa is valid for one or more stays during 3 months. more info on VISA

When you want to rent a car or a boat, do not forget to bring your license.

ART and GAMES
MUSIC on a village square, in the classica

l surrounding of an antique amphitheater or a festival in an open-air theater, all fascinating possibilities in Turkey in the summertime.
Traditional DANCES during a wedding or folkdances by a folkdance group.
In the museums (IZMIR, SELCUK, MILAS, ANTALYA) you find not only remains from the time of APOLLO, God of fine arts, but also examples of modern art.
The art of carpet-making can be seen in touristic areas and inland in traditional surroundings.
Special projects to restore the old beauty are f.i. in Milas (MILAS houses) and BODRUM (the MYNDOS gate in the castle).
GAMES
Favorit games in Turkey are BACKGAMMON or TAVLA and OKEY, a sort of RUMMYKUB. FOOTBALL is loved a lot (mostly passive) and also BASKETBALL.

LINKS


adviezen in het nederlands van het Ministerie van Buitenlandse Zaken voor reizigers naar het buitenland, met informatie over onder andere reisdocumenten, gezondheidsrisico's, trouwen in het buitenland, geldzaken, in-en uitvoer, gevaarlijke stoffen, contact met thuis en wat te doen als er iets misgaat.
---------------------------------------------
LALE postbox 1 - 48670 GÜLLÜK TURKEY

E-MAILADDRESS: INFO@LALEWEB.COM


THIS SITES LAST UPDATE WAS ON 2012-3-16