GÜLLÜK
Güllük, port of entry, small fishing harbour at the end of the Güllük or Mandalya bay.
Provisions can be found, airport at 8 minutes. See if there is place in the fishing harbour or the bay nearby. Good point for trips to Milas and Labranda.

ALTINKUM
Altinkum, the touristic town by DIDYMA, at the top of the Güllük or Mandalya bay.
Provisions can be found, the famous temple of Apollo is nearby; Anchorage at the jetty or in the marina; possibility for excursions to sights like Milet and Priene. Also a good point for trips to Lake Bafa and even to Efesos and Pamukkale.

IASOS
Iasos near the village with the name KIYIKISLACIK, a very small place, at the end of the Güllük or Mandalya bay, opposite Güllük.
There are some restaurants and several remains of the old IASOS, on the hill next to the natural harbour.

BODRUM
Bodrum, port of entry, a lively touristic town with a big harbour and modern marina at the beginning of the Gökova bay.
All provisions can be found, airport at 40 minutes; sites in the town: Amfitheater, rests of tomb of Mausolos, the Castle of St. Peter and the famous disco HALICARNASSOS.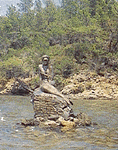 DEGIRMEN BÜKÜ
In Degirmen bükü several nice anchorages can be found. The most popular one is (wrongly) called english harbour (the original english harbour is on the W side) on the E side of Degirmen bükü. Just at the entrance of this bay, with the official name OKLUK LIMANI, is a statue of a mermaid, that was made by Sadun Boro, the famous turkish sailor, in 1995; on the statue he has written:
Ey dost, Allah bizlere emanet ettigi bu dünya cenneti Gökova'nin, sen de kiymetini bil, Onu koru sakin bozma, kirletme. Deniz kizini tekrar yollara düsürme.
which means
my dear friend, God has given this paradise of Gökova in our trust, please know its worth. Take care of it, do not ruin or polute it. Let the mermaid come back on our trips.

On the right side of this bay are restaurants and jetties.