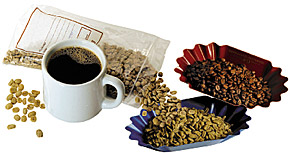 LALEnin KAHVE YAPILMA SAYFASI
yeşil çekirdekten kahverengiye kadar
---
KAVRULMA / ROAST
Fabrikada önce yeşil çekirdekler kavrulur. The green coffee beans are heated in large, rotating drums using temperatures of about 290 C. The tumbling motion of the drums keeps the beans from burning. Az kavrulmuş çekirdekten hafif (sabah) kahve, orta kavrulmuştan filtre ve çok kavrulmuştan espresso kahve yapılır.
Çiğ kahve kavurulmaya geldiğinde çekirdekler sert ve yeşildir (mısırın patlamış mısır olmadan önceki hali gibi). After about 8 minutes, the beans "pop" and double in size. The beans have then reached about 400 F (204 C) and begin to brown as the oils within them start to emerge. This oil is called coffee essence or caffeol. The chemical reaction of the heat and coffee essence is called pyrolysis, and is what produces the flavor and aroma of coffee. A second "pop" occurs about three to five minutes later and signals that the bean is fully roasted.
HAFİF KAVURMA (7 dakika): Cinnamon roast: Açık tarçın renk, fındığımsı tad, yüksek asidite. süpermarket (gümüş) filitre kahve tipi.
ORTA KAVURMA (9-11 dakika): City roast: Kestane rengi, karamel tadında, kahve lezzeti dorukta; red filitre kahve tipi.
KOYU KAVURMA (12-13 dakika): Viennese/French roast: Çekirdek yüzeyinde az miktarda yağ, çikolatamsı kavruk lezzet; gold filitre kahve tipi.
DAHA KOYU KAVURMA (14 dakika): Espresso roast: Koyu kahverengi, yüzeyde bol miktarda yağ, sert aromaların baskın olduğu lezzet; çekirdekten artık duman çıkamayı başlıyor ve içindeki şeker yanmaya başlar.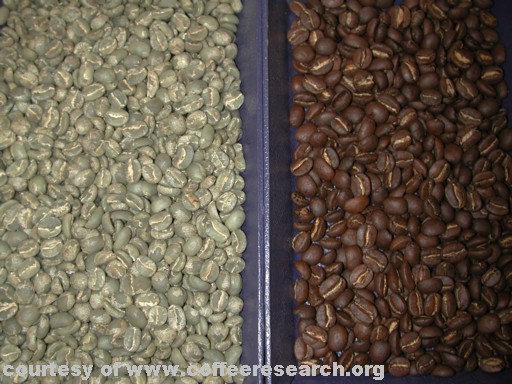 Before and After: Green (left) and roasted coffee beans (right)
Coffee roasting is something of an art. Roastmasters use sound, sight and smell to determine when the beans are roasted to perfection. Timing is everything. Roasting time affects the color and flavor of the final brew, so the length of the roasting period depends on the type of coffee desired.
dark roasted coffees actually have LESS caffeine than medium roasts? The longer a coffee is roasted, the more caffeine burns off during the process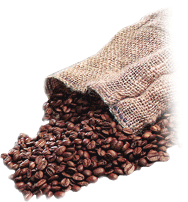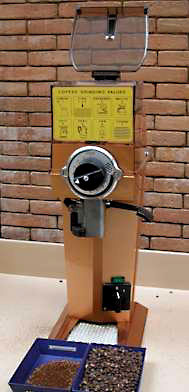 Kahveyi Öğütmek:
The whole point of grinding coffee is to get the most flavor out of the bean. To ensure the best-tasting coffee, buy the beans of your choice and grind them yourself just before brewing. Coffee grinders are inexpensive, widely available machines.
kullanılabilmesi için pişeceği kahve türüye göre öğütülmesi gerekmektedir.
FRENCH PRESS KAHVE İÇİN KALIN, FILITRE MAKINE İÇİN DAHADA İNCE ve ESPRESSO ve türk kave İÇİN EN İNCE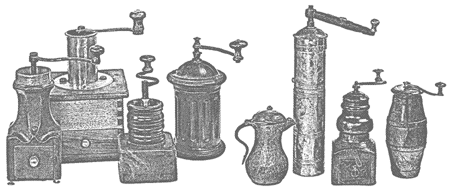 Generally, the faster the brew time, the finer the coffee grind. Espresso, which is brewed in about 25 seconds, has a very fine grind, almost like powdered sugar. A coffee press takes about four minutes and uses a coarser grind than espresso. American drip coffee is coarser still -- it can take anywhere from five to ten minutes to brew coffee using a standard coffee maker.
Kahvelerimiz tazeliklerinin korunması amacı ile çekirdek halinde saklanmaktadır.
Decaffeinated coffee is made by washing the caffeine out of beans in one of two ways, both done before roasting. In one method, a chemical solvent is used to extract the caffeine. The solvent is completely washed out before the bean is dried. The second method uses water to steam the beans, and then the outer layers, rich in caffeine, are scraped way.. There is one naturally decaffeinated coffee: the Madagascar beans.
INSTANT veya Hazır Kahve:
Önce hazır kahve ne olduğunu bir anlatalım. Hazır kahve (Instant Coffee veya Granül Kahve) suda eriyen bir içecek! Eriyen partiküller "pişmiş bir kahvenin kurutulmuş hali" diyebiliriz. Yani önce kahve çekirdekler öğütülüyor (genelde çok iyi kalite kahve kullanılmıyor), sonra kocaman bir kahve makinasından büyük bir "fincan" kahve pişiriliyor. Pişmiş olan fincan aynı posadan tekrar süzülüyor ve bu işlem bir kaç kez tekrarlanıyor.
Bu çok sert kahveyi sıvı halden kuru hale getirmek için soğuk hava ile rutubeti şoklama sistem ile kurutuluyor (dry freeze) veya sıcak hava ile kurutuluyor (klasik) ve sonra granül hale getiriyor .
Dutch coffee concentrate / Cold Water Method
Mix coffee and water in a glass and let soak for 12 to 24 hours according to what strength you would like. Use cheesecloth to line a funnel and set the funnel inside a glass jar. Pour coffee and water mixture through the funnel. Let it drain completely. Cover the mixture and refrigerate.