1) Espresso machines for usage at home
2) automatic Espresso Machines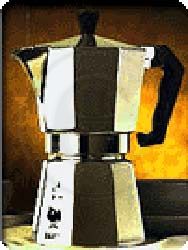 italian moka ekspres
An old fashioned way of making espresso (having its origin in Italy) is this machine that consists of 2 metal parts and was used on a gas stove (later also electric models were made). Water is put in the lower part and dark roasted fine grinded coffee on top, in between is a filter. When the machine is heated its steam goes up through the filter and the coffee, which makes a tastfully cup of espresso coffee. The machine has to be token from the heat at the moment it is cooking.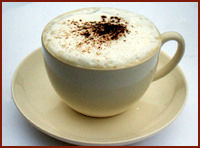 CAPPUCCINO is not a different kind of coffee.
A Cappuccino consists normally of 1/3 hot milk, 1/3 espresso and 1/3 foamy milk.
To make Cappuccino first some milk is made foamy in the cup, then the coffee is added and on top some chocolate powder is thrown; in Turkey during the process some chocolate mix is also added to give the cappuccino a better flavour.
Later coffee automats came to make this type of coffee more easily and quickly, but be aware of all sorts of powder mixes that contain (not very healthy) chemicals to make (more) foam.

Which milk can best be used?
The best result can be obtained with a 1,5% lowfat homogenized milk, which foams the best and combines the best with the coffee taste; or a topping milk powder that is made of the same ingredients.

INSTANT COFFEE, is made in 2 ways :
the cheap kind is made by drying (the foam of) filter coffee by hot air, the better kind is made by freeze-drying (FD) freshly made filter coffee quickly at a temperature of -40 degrees. Air dried coffee is fine and FD coffee has a larger structure.
Now you do not cook coffee, you only let instant coffee dissolve in cooked water.
Coffee concentrate
The making of a cup of coffee of coffee concentrate is similar to that of instant coffee.